Skip to Content
Experience the Magic of Sunless: Visit Us for a Spray Tan
Easy Tan Salon and Spa knows you don't always have the time to hit the beach and soak up the sun to develop a tan. Our customers often have busy careers and social lives, and they simply do not have free time to build a tan naturally and want/need immediate color. Others elect to use sunless tanning over traditional UV beds for other reasons. Sunless tanning is safe and for all skin tones – even those who don't develop a tan in the sun. We offer custom airbrushing by certified technicians or pre-set darkness levels in private booths.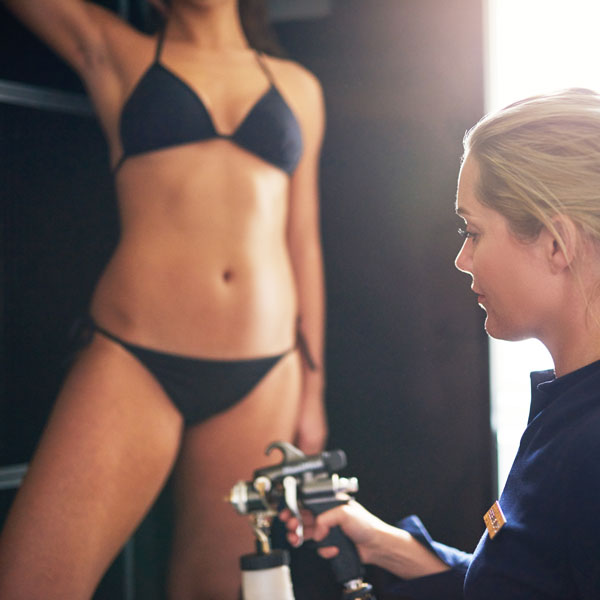 How to Maximize Your Spray Tan Results
Spray tans do require some preparation. You want to be mindful of other personal beauty services such as manicures, pedicures, waxing, massages, etc. Be sure to get them done before the spray tan as products and water used during these services will strip the tan. You should exfoliate and shave/wax 12 to 24 hours before the session, if possible. Try to leave your skin free from all lotions, oils, and deodorants. Make sure to bring loose, dark-colored clothing and open shoes to your session. Changing into tight clothing and sneakers can jeopardize your tan development.
Got Your New Tan, Now What?
You will need to plan to avoid any type of moisture on the skin such as rain, sweating, water, etc., during development time.
Everyone wants to keep a good thing going for as long as possible, but unfortunately spray tans do not last forever. However, there are some things you can do to prolong your spray tan – see "Additional Tips".
Additional tips include:
For your first shower after development time, use lukewarm water, no body wash or loofa
Avoid brightening products
Avoid body washes and moisturizers that contain mineral oil, parabens, and sulfates
Avoid chlorinated pools and hot tubs
Do not use exfoliants until you are ready to remove the tan
Moisturize often
Hit the Beach With Confidence Today
Our spray tans are safe to use and have a natural, beautiful appearance. They're perfect for busy individuals who want a tan but lack time to commit through other means. However, they are not your only option. Easy Tan Salon and Spa also offers UV tans, which require more time and are a more traditional method. No matter which one you choose, you can be sure you will receive a high-quality experience from our team.
Visit Our Spa Today to Get Started